ICE SPEEDWAY HEERENVEEN CANCELED
On March 12, the Dutch government announced a number of measures in the fight against the corona virus. One of these measures means that all meetings, where more than 100 people come, are canceled. This also has consequences for the ice speedway planned on 2 to 5 April.
After consulting various experts and government agencies, the IJsspeedway Assen Foundation and the Thialf stadium had to decide to cancel the event. The responsible authorities do not expect that the situation in the Netherlands will normalize in the short term and that the measures taken will be withdrawn.
We are sorry to disappoint our fans after 48 years of ice speedway, but circumstances have forced us to make this decision.
♦
The refund of your ticket price / ticket prices has now started.
Depending on your bank and the chosen payment method, this can take several days.
We expect everyone to have received the amount by March 31 at the latest.
♦
We will see you in 2021
Ice Speedway
Keep up to date with all the news about the Ice Speedway World Championship in The Netherlands and the ice racing sport in general.

Here you will find all results, the current standings, background information and useful information about Ice Speedway events, including the upcoming World Championship event in Heerenveen.

You can also order tickets here for the 5th (final) finals of the 2020 world championship and the international race for the Roelof Thijs Cup in Heerenveen.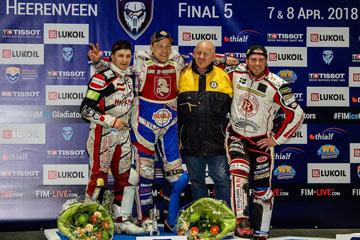 International Roelof Thijs Cup
Friday April 3, 2020
Start 6.30 p.m. with riders presentation
The ice stadium
More information in and around the stadium
Exiting, Action & Sensation
The most spectacular motorsport
ADDRESS THIALF ICE STADIUM
Pim Mulierlaan 1
NL 8443 DA Heerenveen
The Netherlands